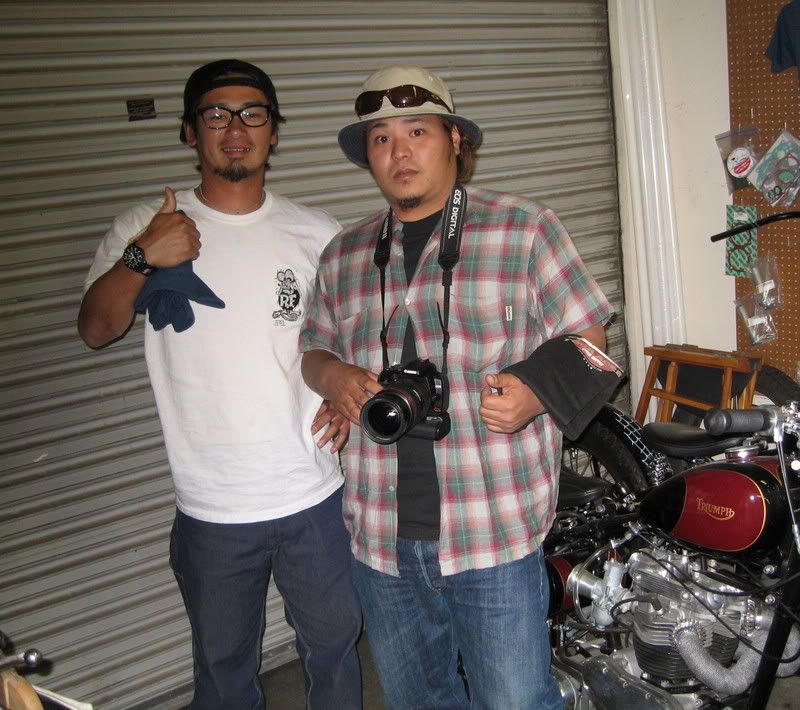 Just kidding, but around here lately we have had several Japanese bike builders come in for a visit. We were absolutely honored and humbled by the presence of none other than Go Takimine from the world famous Bratstyle in Japan. Check out is inspirational and innovative work at http://www.bratstyle.com/. Go visited once before a couple years back. Go is one of the most influential bike builders on the planet right now. He stuff is nothing sort of awe-inspiring.
Go came along with his friend Yone from Bull-Original in Yokahama. Yone's Big Twin flathead was recently seen in DICE! magazine, http://www.dicemagazine.com/. Yone is a talented bike builder and exceptional seat maker. Check him out at http://www.mc-bull.com/. You will not be disappointed.
We also had Natsuki Sakurai of Swallowtail Motorcycles. His shop is more of a catch all repair shop for Japanese bikes, British bikes and Harleys too. But he is a big fan of all things CUSTOM British and Harley. We could not really communicate, but we speak the same language, knowwhatimean?
Thanks for coming by guys!! Japan ROCKS!!! BANZAI !!!!